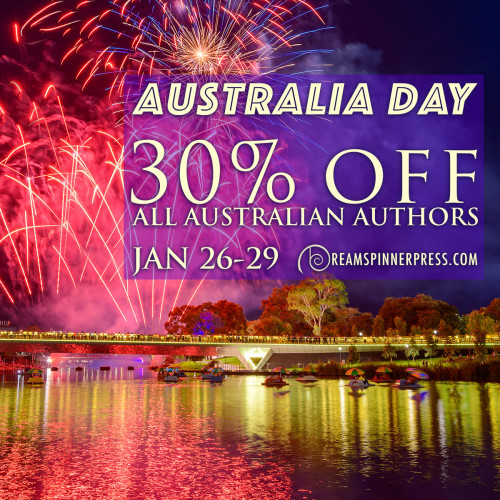 Friday January 26, 2018
Get 30% off all Australian and New Zealand authors' titles!
WHERE?
Dreamspinner Press
WHEN?
January 26, 2018 - 12:00 AM Eastern To January 29, 2018 - 11:59 PM Eastern
Brent Winton is doing all the wrong things for all the right reasons. Since the death of their parents years ago, Brent is helping his younger brother Zach through law school in sunny Queensland, Australia. The boys share a cheap flat, and Brent works two jobs to support them, but Zach thinks the second job is merely bar tending. In reality Brent has turned to gay prostitution to ensure that Zach has all the best textbooks and the up-to-date laptop he needs so he can focus on his studies. When hot Russian refugee Dimitri moves in next door, Brent finds him mesmerizing, but fears that if he gets involved, Dimitri will expose Brent's white lies. But Dimitri has a dark secret of his own, and the question becomes how either of them can learn to trust the other without blowing their cover.
For the last ten years, James Mitchell has conned numerous groups by impersonating a religious guide. No longer able to take the guilt of scamming people, he decides to call it quits. A trip might be the best way to heal his bruised soul, and New Zealand looks like the perfect place.
Under one of the oldest trees in New Zealand, James meets Tāne Kokiri, a woodworker traveling the length of the country to scatter the ashes of his recently deceased mother. After several accidental meetings, they decide to road trip together. Among the mountains of the West Coast and the plains around Ruapehu, they begin to connect on a level neither of them expected, and discover they may have found what they need to move forward in each other.
A Harmony Ink Press Title
Life in a small mining town can be like living in a fishbowl, where everyone knows everybody else's business. Fifteen-year-old Jodi's mother wants her father to quit his binge drinking and his dangerous job at the mine—even more so after a collapse leaves two miners dead and three trapped deep underground.
As tensions escalate both at home and around the town, Jodi seeks comfort with her friends but soon faces a double betrayal. Meanwhile, her ten-year-old brother Jake reacts by joining a gang of schoolyard bullies who engage in increasingly dangerous antics.
As Jodi struggles to gain autonomy over her life, she begins to discover the person she really is. But with everything around her spiraling out of control, it may not be the right time to let her family, friends, and ultimately the whole town know—no matter how much she wants to.
Lang Downs: Book One
Caine Neiheisel is stuck in a dead-end job at the end of a dead-end relationship when the chance of a lifetime falls in his lap. His mother inherits her uncle's sheep station in New South Wales, Australia, and Caine sees it as the opportunity to start over, out on the range where his stutter won't hold him back and his willingness to work will surely make up for his lack of knowledge.
Unfortunately, Macklin Armstrong, the foreman of Lang Downs who should be Caine's biggest ally, alternates between being cool and downright dismissive, and the other hands are more amused by Caine's American accent than they are moved by his plight… until they find out he's gay and their amusement turns to scorn. It will take all of Caine's determination—and an act of cruel sabotage by a hostile neighbor—to bring the men of Lang Downs together and give Caine and Macklin a chance at love.
Aaron's been living in what his friend Howie calls a sexual desert. But an oasis appears on the horizon when Paul, a divorced electrician with a five-year-old daughter named Sam, moves in next door. He's a country boy from northern Australia, and although he's never been with a guy before, he has an impression that anything goes in the city. They find that the ordinary things in life—books, footie in the park, looking after Sam—lead them into an unlikely relationship.
But as their relationship slowly deepens, with Aaron spending time on Paul's family's cattle station, it becomes clear that Paul might have a harder time leaving the country behind. To him, happiness means a conventional life—including a mother for Sam. Being with his old friends convinces him he's on the wrong path with Aaron, and he starts a relationship with a girl from his hometown. If he cannot find the courage to go after what he truly needs, he and Aaron will become nothing more than awkward neighbours.